Vishmi Gunaratne to lead the Sri Lankan team. Under-19 Women's T20 World Cup: Vishmi Gunaratne to lead Sri Lanka team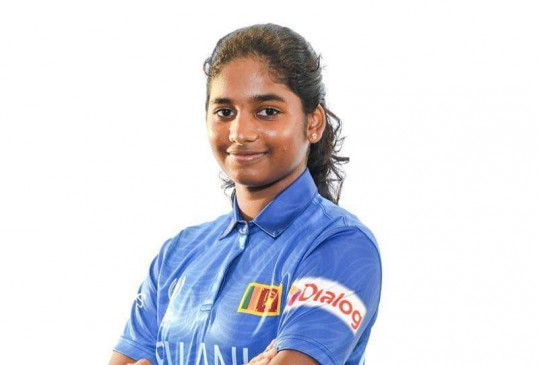 Digital Desk, New Delhi. Vishami Gunaratne was on Thursday named as Sri Lanka's captain for the first season of the ICC Under-19 Women's T20 World Cup to be held in South Africa from January 14 to 29.
Apart from featuring in the women's T20 event at the Birmingham Commonwealth Games, the 17-year-old Vishmi has played nine T20 matches and also made her ODI debut last year. She is the only player in the Sri Lanka Under-19 team who has experience in the senior women's team. Vishmi was also the captain of the Sri Lanka Under-19 team that took part in the T20 series in Visakhapatnam late last year.
After making her senior women's international debut last year, Vishmi, a right-handed batsman, has shown a lot of promise, scoring 45 against India in a T20 match in June 2022 at Dambulla, Sri Lanka.
Coached by former Sri Lanka women off-spinner Sasikala Siriwardene, the Under-19 team left for South Africa on Friday. Sri Lanka have been placed in Group A of the tournament alongside Australia, Bangladesh and the USA.
They will take on USA in their first match on January 14 in Benoni. Sri Lanka will take on Bangladesh at the same venue on 16 January, after which they will travel to Willomoor Park, Benoni for the final group match against Australia on 18 January.
The team is as follows:
Team : Vishami Gunaratne (Captain), Dahami Sanetama, Umaya Ratnayake, Rashmi Netharanjali, Rashmika Sewavandi, Devmi Vihanga, Manudi Nanayakkara, Sumudu Nisansala, Pamoda Shiny, Vidushika Perera, Dulanga Disnayake, Rashmi Sanjana, Netami Senaratne, Harini Perera and Vihar Sewavandi.
(IANS).
Disclaimer: This is a news published directly from IANS news feed. With this, the team of bhaskarhindi.com has not done any editing. In such a situation, any responsibility regarding the related news will be of the news agency only.
#Vishmi #Gunaratne #lead #Sri #Lankan #team #Under19 #Womens #T20 #World #Cup #Vishmi #Gunaratne #lead #Sri #Lanka #team