T20 World Cup will be the biggest challenges for coach Dravid, captain Sharma. T20 World Cup will be the biggest challenges for Coach Dravid, Captain Sharma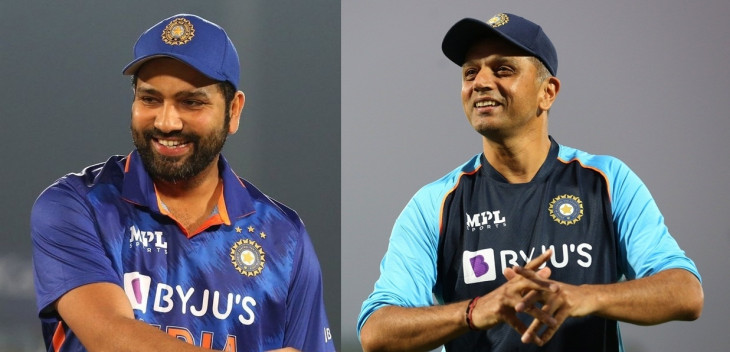 Digital Desk, New Delhi. The Indian cricket team is determined to put up a gutsy show and bring home the T20 World Cup trophy in 2021 after a group-stage exit. Ahead of the tournament, the challenges for skipper Rohit Sharma and coach Rahul Dravid have increased as many good players have not been included in the team, but it cannot be said that the team is weak.
The duo of Rohit and Dravid took over from Virat Kohli and Ravi Shastri after last year's T20 World Cup. Under the current team management, India have seen a fair amount of success in bilateral T20I series but the Asia Cup debacle has given them a wake-up call.
When Dravid and Rohit took charge, they talked about a positive approach and intent, which is clearly visible in the team's style of play in T20s in recent times.
Speaking about India's aggressive batting approach after the end of the T20I series against South Africa, Dravid said, "We believe as a group we have the quality to play more aggressively than we are capable of doing."
India managed back-to-back bilateral victories during the Shastri-Kohli era as well, but they failed to win an ICC trophy during their tenure. We took the decision after the last T20 World Cup where we sat as a group and decided to play more positively.
India will open their campaign on October 23 against Pakistan, who recently beat them in the Asia Cup and were marred by the absence of pacer Jasprit Bumrah and star all-rounder Ravindra Jadeja as well as poor form from Bhuvneshwar Kumar and Harshal Patel. .
But, as Dravid said, this is an opportunity for someone else to step up. Players like Mohammed Shami and Akshar Patel have a chance to show great performance in the team. On Saturday, Rohit Sharma said in the press conference, you cannot look disappointed in injuries, you have to look forward to what we can do. We have backed our other players and we are backing them.
By the time we play Pakistan, we will be ready, said the India captain. We don't believe in last minute information, I don't want to believe in telling anyone at the last minute how you are going to play. Another area where Team India needs to work is fielding. He has been poor in the field in 2022 dropping many catches which is not a good sign.
After the conclusion of the South Africa series, Dravid had said that the team had worked really hard and all it needed was some luck for the T20 World Cup in Australia. Willing to bring smiles on faces.
Disclaimer: This is a news published directly from IANS news feed. With this, the team of bhaskarhindi.com has not done any editing. In such a situation, any responsibility regarding the related news will be of the news agency only.
#T20 #World #Cup #biggest #challenges #coach #Dravid #captain #Sharma #T20 #World #Cup #biggest #challenges #Coach #Dravid #Captain #Sharma