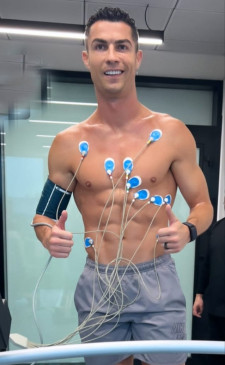 New Delhi. Portuguese football star Cristiano Ronaldo has shared a picture of himself, confirming he has passed a medical with his new club Al-Nassr. On Tuesday, on Instagram, Ronaldo shared a photo of himself raising both thumbs up after passing the medical, captioning it, medical done. Ronaldo underwent routine physical and medical tests before his grand unveiling in front of the fans at the Mrisul Park Stadium.
The five-time Ballon d'Or winner was given a warm welcome at his new club in Saudi Arabia. The packed 25,000-capacity stadium went into rapture when Ronaldo, dressed in the yellow and blue of Al Nasr, took to the field.
After completing a routine medical, fans can expect to see Ronaldo debut for Al Nassr when the club host Al-Tai on Thursday. The 37-year-old star has joined Al Nassr on a 2-1/2-year deal which is estimated to be worth over 200 million euros (210.94 million USD).
(IANS).
Disclaimer: This is a news published directly from IANS news feed. With this, the team of bhaskarhindi.com has not done any editing. In such a situation, any responsibility regarding the related news will be of the news agency only.