Rishabh Pant will not be able to play the World Cup after IPL! Rishabh Pant's surgery will be done in London, not Mumbai! BCCI gave big updates on Rishabh's health. Rishabh Pant will undergo surgery in London, may also be out of ODI World Cup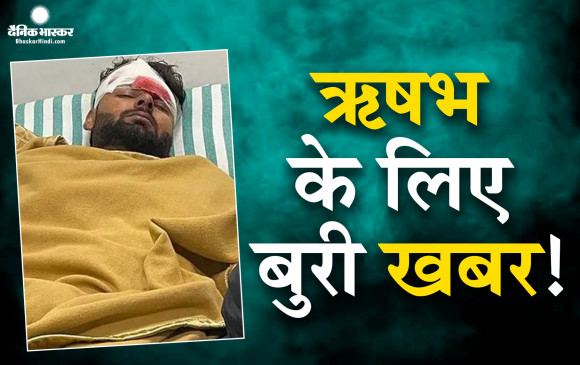 Digital Desk, Mumbai. Just before the new year, the Indian cricket world has suffered a major setback due to the car accident of Indian wicket-keeper batsman Rishabh Pant. But for Pant, who came out of the mouth of death, this new year started well. The condition of Pant, who was badly injured, improved and on Wednesday he was shifted from Max Hospital in Dehradun to Kokilaben Hospital in Mumbai for better treatment. But according to the reports, Rishabh's ligament surgery can be done in London. After which it may take 6 months for him to get fit again and return to the field.
Pant's surgery will be done in London
The Board of Control for Cricket in India is constantly keeping an eye on Rishabh Pant. In the past, the BCCI shifted Pant from Dehradun to Mumbai by airlifting him for better treatment. Pant is being treated at Kokilaben Hospital in Mumbai under the supervision of Dr. Dinshaw Pardiwala, Head of Sports Medicine and Arthroscopy. But till now no decision has been taken on Pant's ligament surgery. Talking about his ligament surgery, a senior BCCI official said that once Rishabh recovers from his injuries, the doctors will take a decision on his surgery. Like other Indian players, he too can be sent to London for surgery.
Pant will miss many big tournaments including World Cup
The question on every cricket fan's mind is when will Rishabh Pant return to the field after recovering from this horrific accident. The BCCI official replied that, we will talk about his comeback when he is 100 per cent fit. But Pant may miss many big tournaments including World Test Championship, IPL 2023 and ODI World Cup 2023. At the same time, according to experts, it takes 6 to 8 weeks to recover from any common knee injury. Although Pant is still young, so his recovery can be quick.
Accident due to pothole
Significantly, Rishabh Pant had returned to India after celebrating Christmas in Dubai and was going from Delhi to his home in Roorkee to surprise his mother on New Year. But while trying to avoid a pothole on the highway near Roorkee at around 5.30 am, Pant lost the balance of the car. Because of which the car collided with the divider and caught fire. But the injured Pant somehow came out by breaking the glass of the car. After which Pant was taken to the local hospital.
#Rishabh #Pant #play #World #Cup #IPL #Rishabh #Pants #surgery #London #Mumbai #BCCI #gave #big #updates #Rishabhs #health #Rishabh #Pant #undergo #surgery #London #ODI #World #Cup